---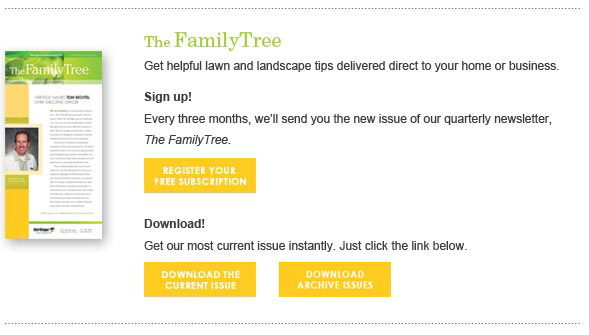 The FamilyTree
Get helpful lawn and landscape tips delivered direct to your home or business.
Sign Up!
Every three months, we'll send you the new issue of our quarterly newsletter, The FamilyTree
Register Your Free Subscription >
Download!
Get our most current issue instantly, Just click the link below.
Download The Current Issue >
---
Welcome to our library of informational articles designed to give you advice and timely tips on lawn and tree care. Get the latest news about treatment techniques and do-it-yourself help to keep your property healthy and beautiful all year long.
> Emerald Ash Borer (EAB)?
What is this pest and what you can do to protect your ash trees.
> Soil Health
Get the dirt on maintaining the perfect soil of optimum plant health.
> Irrigation Systems
5 tips for irrigation.
> Top Dressing
How to create a thriving growing environment.